Setup Clear Impact Scorecard to reflect the way your organization operates
All Clear Impact Scorecard features are configured to work right away and you do not need to do any additional set up. However, there are a few customizations you can make which can make your experience more tailored to your organization.
In order to make changes to these settings you will need to have an administrator account with the proper roles.
This documentation will cover the following:
Scorecard Language Editor
International Language and Date/Number Formats
Administrator Message
Clear Impact Scorecard Network Settings
Enhanced Security
Measure Reporting Frequencies or Calendars
Default Scorecard Object Notes
Default Color Bands
Action Custom Fields
Scorecard Language Editor
Clear Impact Scorecard comes pre-configured with language to support the Results-Based Accountability methodology, but you can easily adjust it to suit your organization. From the Admin menu, select Language Editor.
The language editor allows you to adjust the word values for each of the Scorecard objects in the software. Scorecard objects refers to data elements that can be placed on a scorecard, such as a Result, Indicator, Program, Performance Measure, or Action. You can also adjust the letter that appears in each icon for each object. For example, some organizations will change the word Result to Outcome. They will probably also want to adjust the R icon text to be an O instead.
International Language/Formats
The first setting you can configure is the Date and Number formats. By default Clear Impact Scorecard uses United States English settings. To update your culture settings, navigate to Site Settings under the Admin tab and locate the Culture dropdown. Changes to culture are reflected for all users on your Clear Impact Scorecard site.
In addition to the various cultures you can select, at this time Clear Impact Scorecard comes in Chinese, Arabic and Latin American Spanish. To translate Clear Impact Scorecard simply select one of these Cultures from the dropdown and select Update.
Administrator Message
The administrator message is a rich text box you can edit that displays text on the homepage of the software. This message is seen by all the users on your site when they login so you can use it to include links to training, download documents or other news you would like to distribute. To edit the admin message you need to have the Admin Settings role. If you have this permission, an edit button will appear on the top right corner of the administrator message and allow you to make and save changes.
Enhanced Security
Also from the settings page you can turn on or off enhanced security. Enhanced security is designed with high security corporate and government agencies in mind and meets most strict password management precautions. Enabling enhanced security will require users to change passwords every 45 days, have stricter rules for designing passwords, and force a change of any temporary passwords. To see a full list of changes hover over the help tip next to the enhanced security option.
Measure Reporting Frequencies
Clear Impact Scorecard includes two types of measures. Indicators and Performance Measures. Both of these measures use the same reporting calendars such as annual, quarterly, and monthly. You can view the available Calendars via Calendar Manager under the Admin tab.
By default the system includes several default calendars for monthly, quarterly, half year, and annually. You can add your own and customize the start and end date of these calendars for custom time periods like Fiscal Month or Year.
Start and End dates come in to play with Calendars when doing data imports and dates for data needs to be picked. The maximum number of periods for a calendar is 12 so you cannot report more frequently than monthly using Clear Impact Scorecard.
Default Scorecard Object Notes
Notes are pieces of qualitative information that display on each of the presentation views for the Scorecard objects. Here is an example of a Performance Measure presentation view with the 2 of the default notes displaying. By default, Clear Impact Scorecard notes are configured for Results-Based Accountability and generally improving population results and program performance.
You can change the order that notes appear in, create new notes, and determine what notes get placed on what objects by default. It is important to know that although these settings will change what notes get added by default when a new Performance Measure for example is created. Once a measure has been created, you can customize what notes display on that specific object on the edit page.
Setting up default notes saves you time down the road by getting the right input fields added to all your objects right away. To configure which notes get added to each object select the Edit button next to that object. To create new notes or rearrange them click the Manage Note Types button.
Default Color Bands
These thresholds will get added to any Indicator or Performance measure when they are created but can be customized on a measure by measure basis. The percentages shown here represent a percentage of a target value so 75% of a target value of 50 would be 37.5. For more on color bands check out the Color Bands video under the Data and Graphs section.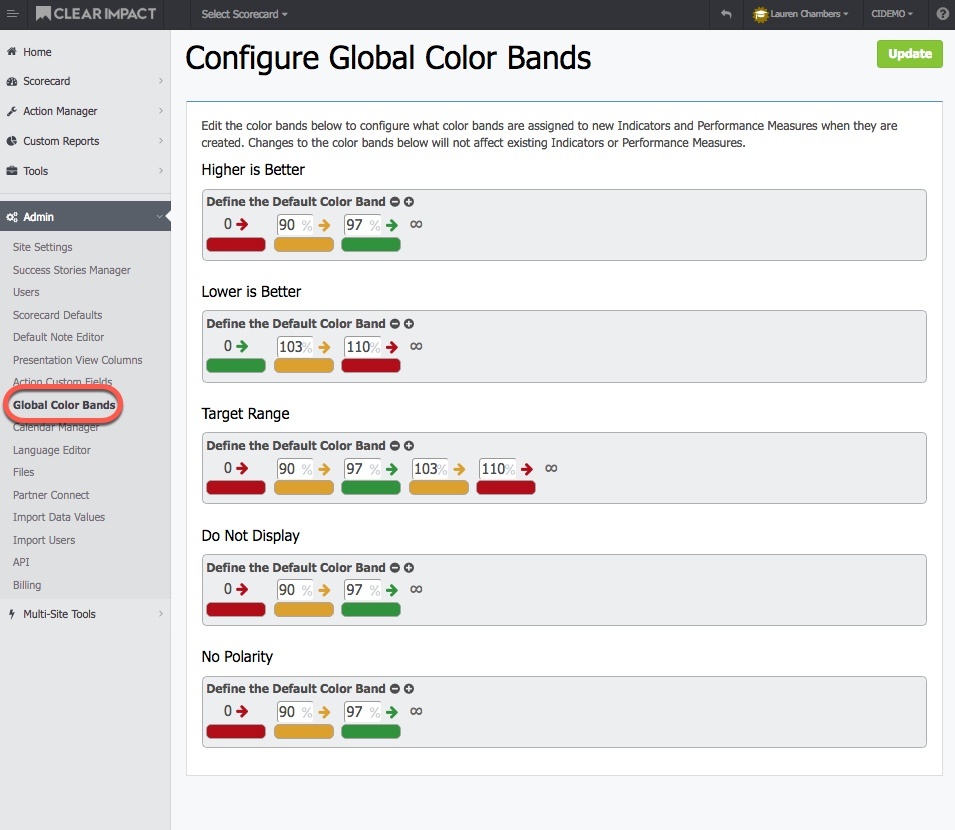 Action Custom Fields
You can edit custom fields by selecting Action Custom Fields under the Admin tab. These fields display on the Action Presentation view and can contain values. Some examples that organizations use are Budget, Spent to Date, and PM Code. These fields can be used for tracking additional information about Actions or lining up your efforts in Clear Impact Scorecard with another project management or record keeping system.
Once a custom field has been added it will be added on the Custom Fields tab on the Action Edit and Create pages.