Connect with other organizations using Partner Connect and multiple instances
What is an Instance?
A Clear Impact Scorecard instance is one "occurrence" of the software. Each instance has its own security and is, by default, isolated from all other instances of our software. This design means that the many organizations that use the Clear Impact Scorecard software all do so side by side in many instances. Each instance has its own users, scorecards, data, and security settings.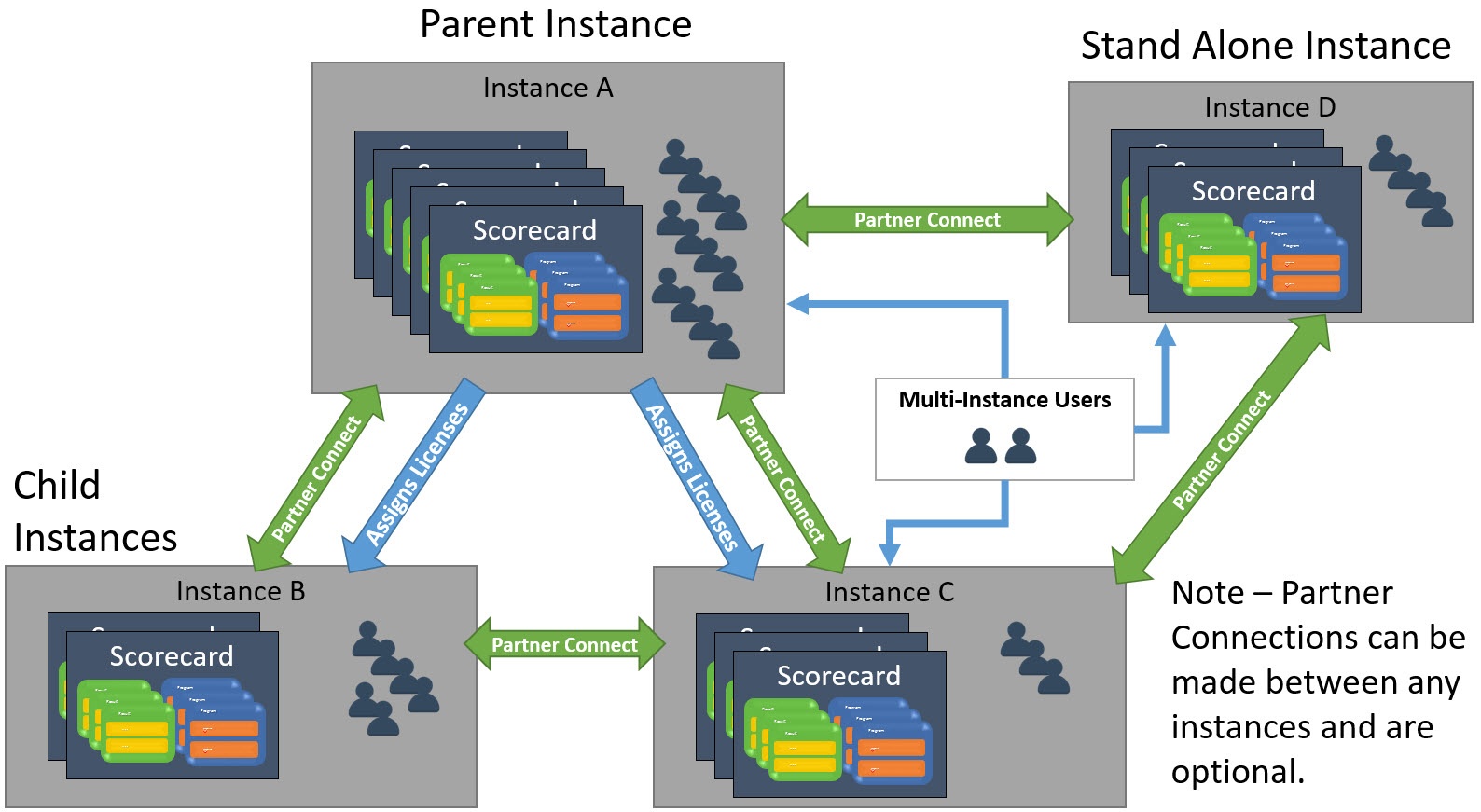 How do I Access Additional Instances
If you are a user on more than one instance, you can change which instance you are viewing by selecting the instance code in the top right corner. You can then search for the instance you would like to view and click on its name to change to it. You will only be able to view/edit scorecards from the current instance you are viewing. You can tell what instance you are currently viewing by checking the instance code in the top right corner.
If you would like access to an additional instance you will need to contact the administrator of that instance to have them add you as a user on their instance.
Important Note – you may have different roles/security access on different instances.
Can a Single User Access Multiple Instances?
Yes. A user can be a member of multiple instances. If a user is a member of multiple instances, their user license only counts against the first instance of the software where they were created. This is known as the user's "home" instance.
To add a user to an instance select Admin > Users > Add New User and enter the email address of the user. The roles you select will only be added for the instance you are currently on, they will retain their roles on any other instances they have already been set up on.
Can a Single Organization Have Multiple Instances?
Yes. In some cases, organizations may want to separate their data into multiple instances. This is especially useful for grantors looking to provide access to the Clear Impact Scorecard for many different grantees. Having separate instances of the software set up for each sub-organization (grantee) means that each of those sub-organizations can have their own user license accounts, security settings, and scorecards without having to see all other sub-organization's instances. Sub-organizations may also purchase additional software licenses for just their instance if they would like to grow their usage of the software.
How Do I Create Additional Clear Impact Scorecard Instances?
If you would like to create additional instances of the software you will first need to contact support@clearimpact.com to request that your organization have access to the Multi-Instance Tools left menu items. The Multi-Instance Tools left menu item appears for all users that have the "Instance Administrator" role on any instance that has at least one child instance. To create a new instance of the software select Multi-Instance Tools > Create New Instance. When you create a new instance you are automatically given full access (all roles) on the newly created site.
From this page you can create a new instance of the software, select the parent organization as your organization and you will see the new instance in the Multi-Instance License Mgmt page.
Important Note – new instances do not come with any user licenses and no users can be added to these child instances until a new billing account is set up for them or you delegate user licenses from your organization to the child instance.
Assigning User Licenses to Instances
Organizations can grant their user licenses to any child instances they are linked to. Child instances are linked at the time they are set up. If you need help linking any child instances that are missing please contact support@clearimpact.com for assistance.
To assign user licenses to an instance, navigate to the Multi-Instance Tools > Multi-Instance License Mgmt page to assign user licenses to this new instance so that you can add users.
Sharing Data Between Instances
If you would like to share scorecards and data between two instances you can use the Partner Connect tool.
Instance Administrator Role
In order to see the multi-instance tools and manage multiple instances you will need the Instance Admin user role. To learn more about user roles check out the Users help article here.