The Partner Connect feature allows you to connect your Clear Impact Scorecard data and scorecards with other organizations
Only Instance Admins can access the Partner Connect page and set up Partner Connections.
How It Works
Overview
Partner Connect is a two-way street of information sharing that can be controlled at either end and is managed at a per scorecard level.
This means you can choose to share your content with other organizations and they can just share their content with you. Or, you can both share back and forth. This means that grant makers can be collecting information from many grantee organizations without being required to share the grant maker's information back with those grantees. You control who you connect with, what you share, and they control what you can see from them.
Sharing
None of your content is shared through Partner Connect by default. Partner Connect allows you to share access to Scorecards, Results, Indicators, Programs, and Performance Measures. With Partner Connect you choose what scorecards to share and then any instances you are connected with can access those scorecards as well as all Results, Indicators, Programs, and Performance Measures that display on those scorecards. This makes it easy to share large amounts of data without having to change a setting on each individual items.
If you don't want to share any of your existing scorecards, you can also set up a scorecard just for sharing and place all your public or shared content on that scorecard.
Viewing
Viewing shared content is just as easy and intuitive as viewing your own content.
Open the scorecard library and notice a new search box appears on the right side. This filter will allow you to select any content from sites that you are connected with.
When building scorecards and forming relationships, you will also see this filter on the add existing screen so you can include shared content on your scorecards.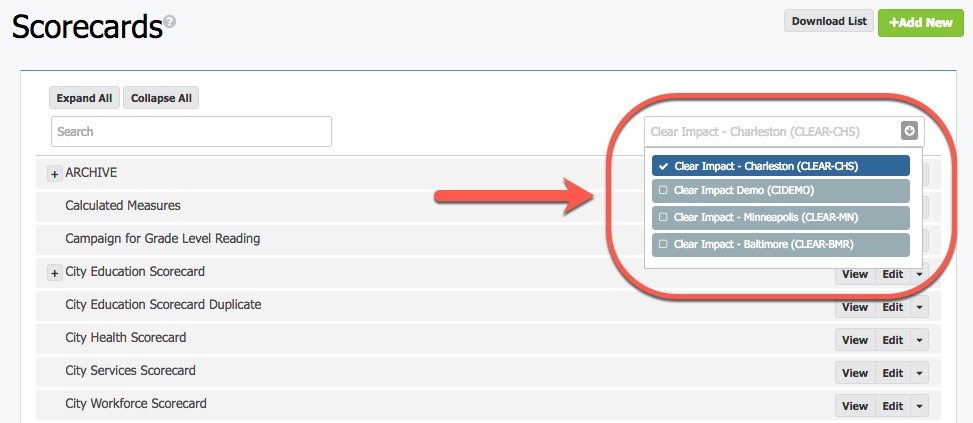 When viewing any shared content, you can always differentiate a scorecard object from your own by the dark gray instance code that appears in front of the item.
In the screenshot below you can see the CIDEMO instance code denoting that the Result and its Indicators are from another instance. Hovering over this box will display the complete organization name the same way hovering over a tag will display the tag description for inline clarity. This same styling appears throughout the application anywhere shared content is displayed. This screenshot also shows how shared content can be included on your scorecards.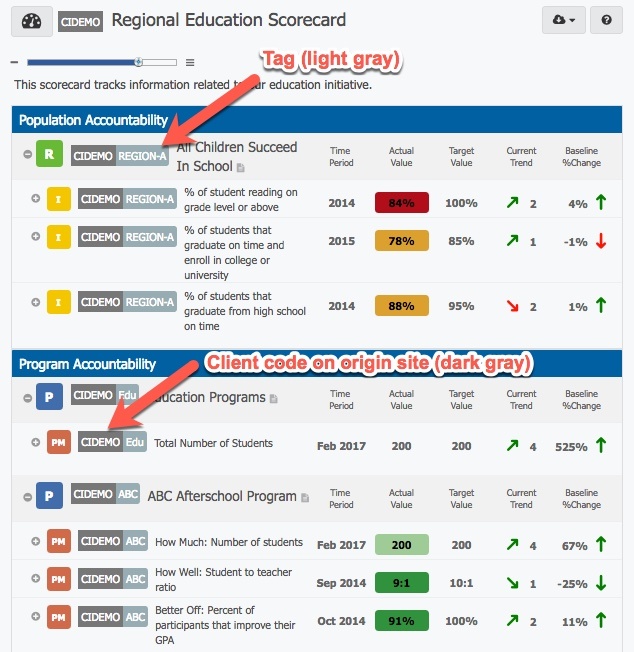 Editing
Partner Connect is a read-only sharing tool. Shared objects cannot be edited on the connected sites. Only users on your account are capable of maintaining, editing, creating, and deleting your content.
Connected sites can use your Indicators and Performance Measures as part of calculations though since on the relationships tab for these items your shared Indicators and Performance Measures will be selectable to include in aggregations.
The Partner Connect Management Page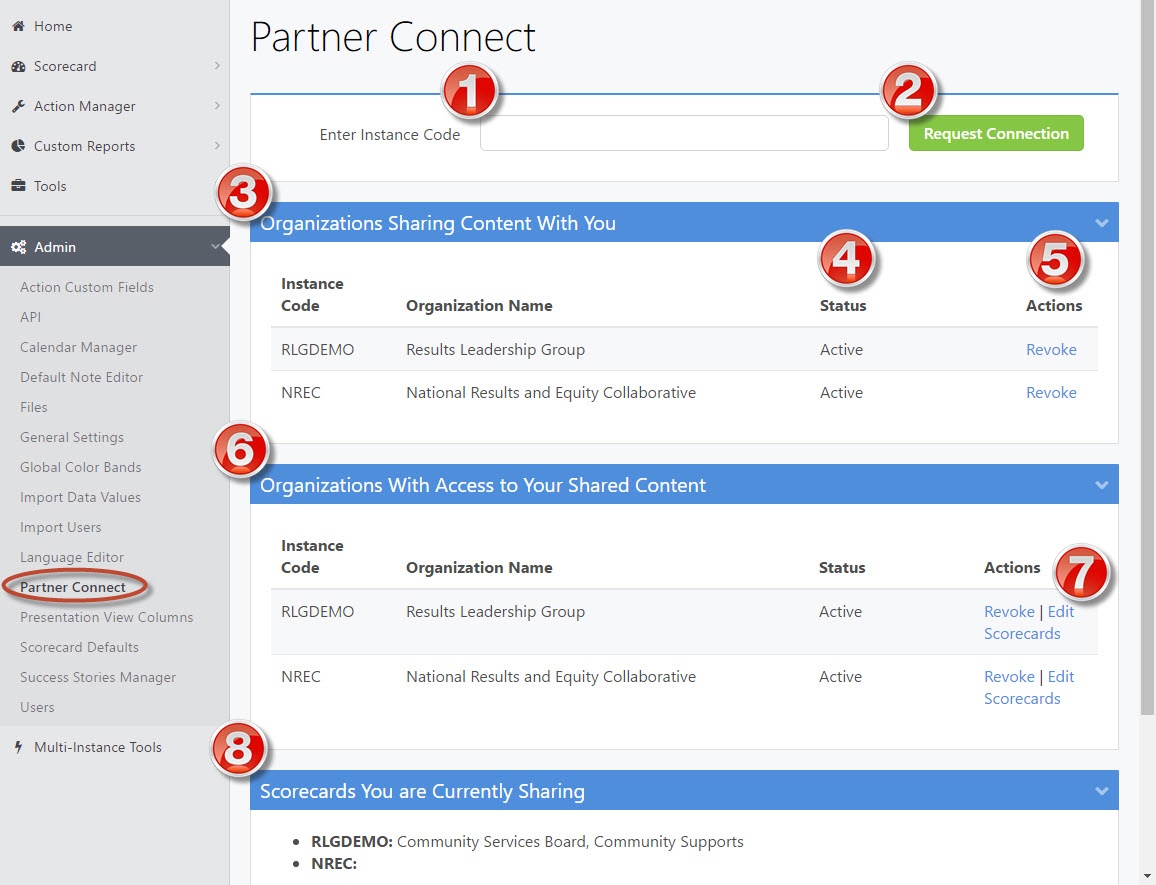 1. Instance code entry box - This is where you enter the instance code of the organization you would like to connect with. You can find your instance code in the top right corner of the Clear Impact Scorecard application to the right of your name.
2. Request connection button - This will process the instance code and send an email to the instance owner of the instance letting them know they have a new Partner Connection request. A request is processed to both share content with the other organization as well as receive their shared content.
If you only want to set up the connect one way just revoke the other access once they accept the connection.
If the instance code is not valid you will receive a message letting you know. If the request is successful you will see the organization show up in boxes 3 and 6.
3.Organizations Sharing Content With You - The box displays a list of organizations to which you have access to their shared content, as well as the status of those connections.
4. Status column - It displays the status of your Partner Connections. They are either Awaiting Approval or Active.
Awaiting Approval means that a connection request has been processed and the receiving site owner still needs to approve the connection.
Active means the connection is complete and any shared content is being displayed across the two sites properly.
5. Action column - This allows you to Approve, Deny, Edit and Revoke Partner Connections. Clicking one of these actions will immediately take the chosen action.
6. Organizations With Access to Your Shared Content - This box displays a list of organizations that you are currently sharing your shared content with, as well as the status of those connections.
7. Edit - The edit scorecards option only appears for the Organizations with Access to Your Shared Content section so that you can control what scorecards you are sharing.
8. Scorecards You are Currently Sharing - This section shows you what scorecard content you are sharing with other organizations. Each client code will display with the scorecards you have shared to that specific client site. You can share different scorecards to different organizations.
Create a New Connection
1. Ask the desired organization for their Instance code.
2. Enter the Instance code in the Instance Code Entry Box (see above screenshot).
3. Click the Request Connection button.
4. An email will be sent to the instance owner of the requested instance and when they approve it your connection will be active.
Manage What Content is Shared
As mentioned above in the sharing section, you can control what scorecards of yours other organizations can see so you don't have to share everything. Use the "Scorecards You are Currently Sharing" section of the Partner Connect management page shown above to audit what you are sharing and make sure other organizations can't access your private scorecards.
To share a new scorecard or remove a shared scorecard from this list you can do the following:
Select Edit Scorecards next to the organization you would like to modify access for
Add or remove scorecards that they have access to
Select Save
This scorecard will now be updated with your sharing preference.
Revoke Access to an Existing Connection
To revoke a connection, click the Revoke button next to the organization on the Partner Connect management page. This will immediately remove the connect and all relationships will be removed. The removal of relationships cannot be reversed so make sure you want to proceed before clicking this button.
You can restore the connection by sending a new request to the instance code.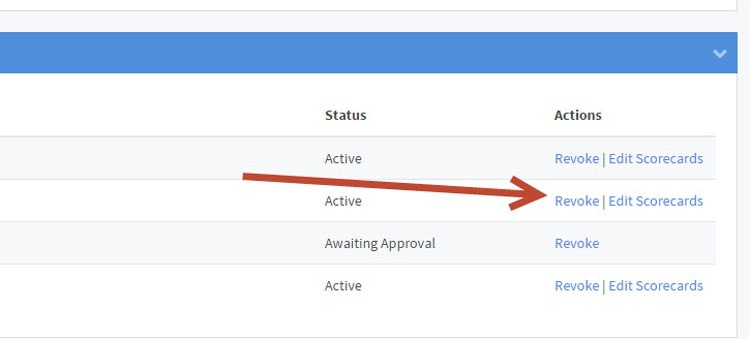 Note: Clicking revoke only works on one sharing direction at a time. If you are sharing content with an organization and receiving their shared content, you will need to revoke both connections since it is a two way street.