Embed your scorecards and data live on your website
Clear Impact Scorecard allows you to embed any Scorecard or scorecard object and make them viewable to the public. You can share through your website via an embed link or through its own hosted web page. These pages and embed views do not require authentication to view so users do not need to log in to access your Clear Impact Scorecard data.
Quick Facts:
The embed pages are designed to make reporting to stakeholders easier by giving them access to your live performance data.
The embed pages are non-password secured, read-only versions of your data that can be shared on an external website or with a link.
Viewers of the embed pages can see and interact with the data but they cannot make changes or download files.
Actions related to the embedded object do not display.
Indicators and Performance Measures can also have just their graph embedded.
The embed pages are NOT designed to replace a login to Clear Impact Scorecard and have limited capabilities.
Objects that can be embedded:
Scorecards
Strategy Maps
Containers
Measures
Measure Graphs
Each of these pages are fully interactive the same way it is in the Clear Impact Scorecard application, just minus the ability to edit information contained on the embed views.
Users can click on the names of objects to open the presentation views for those objects but can only navigate one level in. For security purposes, they are not able to continue navigating to more and more relationships.
To enable scorecard objects to be embedded, the option must first be enabled.
Enable Scorecard Embed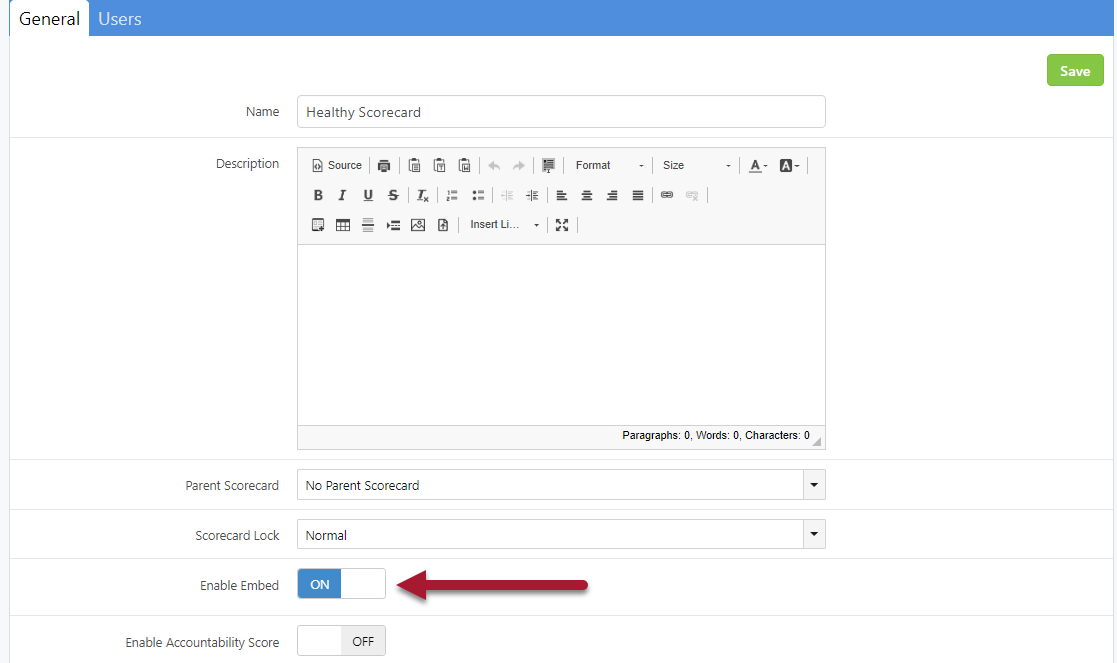 Navigate to the Scorecard that you would like to enable embed.
Click Edit on the scorecard.
Turn on the Enable Embed toggle switch.
Click Save.
This scorecard and all containers/measures related to it can now be embedded or shared as hosted pages.
Get the Embed Code for a Scorecard Object
Navigate to view the object you wish to embed.
Select the options dropdown menu from the button toolbar in the top right corner of the page.
Select the Embed option from the dropdown. (Again, this option only appears if the object you are trying to embed is linked to a scorecard that has embed enabled)
Copy the Embed code from the modal box that appears.
Embed Code vs. Hosted Page
When you select the embed option, a modal box will appear that will give you two options:
1. The Embed Code is an HTML code that will embed the object with interactive data on your website. This option requires a web developer with technical knowledge of how HTML works in order to use it.
2. The Public Hosted Page is a URL or web address that can be shared with anyone who does not have a Clear Impact Scorecard account to view the object. This URL can also be shared on social media or posted on your website as a link.