Note: This article discusses creating a scorecard from scratch. But there are also several scorecard templates you can look through, which you may be able to use for your organization, editing as needed.
To create a new scorecard, choose Scorecard Objects / Scorecards from the top menu.
This opens the scorecard list. At the top right, click Add New.


Note that whatever details you set up initially for a scorecard can be changed at any time later, by editing the scorecard.
Assign a name, and an optional description. All HTML editing tools are available, such as text formatting, hyperlinks, bullets or lists, and images.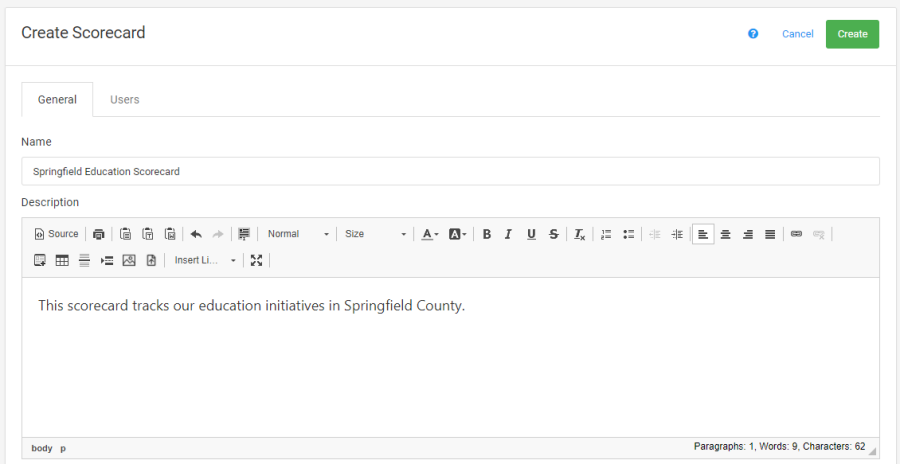 In the Users tab, you can select the users who can access this scorecard. If the Has Access field is left empty, then all users will have access. Admin users automatically have access to all scorecards. User roles, as well as scorecard permissions, can be set in the Users list.
Returning to the General tab, scorecards can be created on their own, or as a parent-child hierarchy. Many users set up blank scorecards as the parent that contains child scorecards. In this example, the scorecard will be added to the broader Education category of scorecards. You can also choose whether this scorecard can be embedded in a website or social media platform, and whether the accountability score will be enabled.
The last step is to choose the scorecard data columns that will be displayed. There are nine columns to choose from, and up to six can be displayed at a time, though typically you'll only need two to four.


You can always change scorecard columns later, if you want to present data in different ways.
To finish, go back to the top and click Create.
This brings you to the scorecard editing page, with the summary at the top. You can click Edit to change any fields in the General tab, or click Users to change user access.
Below the summary and columns is the Containers area, where you can start building the containers for your results and indicators, and/or programs and performance measures.