Version 6 improves the flexibility and performance of Clear Impact Scorecard by allowing users the ability to create more measure and container types.

What's changed?
Scorecard 5 (OLD) →

Scorecard 6 (NEW)

Results always appeared at the top of Scorecards. Sorting Programs below certain Results was not possible.
Performance Measures could only be linked to Programs and Indicators could on be linked to Results.

Container types can be sorted in any order. Programs can be inter-mixed with certain Results and new container types can be added.
Any measure type can be linked to any container type. For example, programs can have KPIs and Performance Measures or Results could have Indicators and Population Indicators linked to them. You Can use any label you want for any container.
Why is This Important?
The Scorecard 6 upgrade allows you to:
Build your Scorecards to more accurately reflect the structure of your organization
Align your Scorecard language with the language used in your organization
More easily visualize the connection between your Results, Programs, and associated Measures

Rather than strictly adhering to any specific framework, you can modify the Scorecard structure to fit any framework you are currently using.
Introducing Containers
Previously two objects could be linked directly to Scorecards, Results and Programs. While the names of these two objects could be customized to your organization, the software enforced having just 2 of them. The Scorecard 6 upgrade combines these two into the concept of "containers". Organizations can have unlimited container types with custom names to fit their needs.
A container is any intangible strategic building block that you want to measure. You can link as many measures to a container as needed to understand it's performance. You can now create as many container "types" as you want to better articulate your strategy. You can expand beyond just Results and Programs to also have "Strategies", "Agencies", or whatever your organization is measuring.
Learn more about containers here.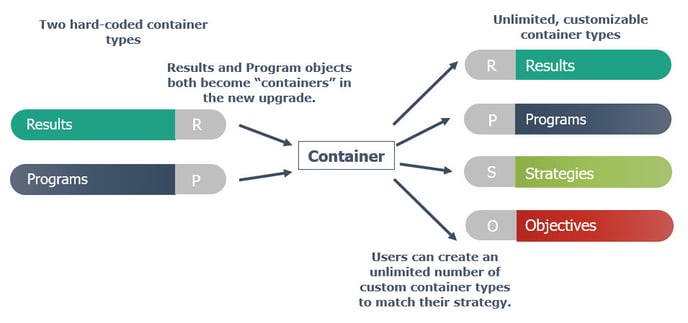 What is a Measure?
Previously Results and Programs were measured by Indicators and Performance Measures respectively. Indicators and Performance Measures are now both just types of "measures" in the software. You can also expand beyond just these two to have additional measure types such as "KPIs", "Population Indicators", and "Strategic Indicators". Any type of measure can also now be linked to any container.
Learn more about measures here.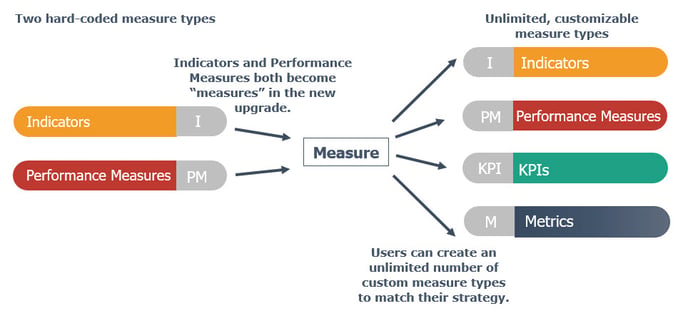 How do I add a New Container Type or Edit Existing Containers?
Add or Edit New Measure/ Container Types Using Admin Settings
Navigate to the Admin main menu item
Click the Object Types sub-menu item.
Add new containers or measures using the green buttons.
Edit existing containers and measures using the edit buttons.
Add or Edit Containers Using the Scorecard Builder
Navigate to the Scorecard you would like to add a Container to
Click edit in the top right corner.
Click the New Container button next to the containers sub-heading.
Enter the Container name and select the Tags.
Click Save on the scorecard.
Add New Containers Using Lists
Click on the Scorecard Objects main menu item.
Click on the Results sub menu item.
Click on the green Add New button.
Enter the information for the Container.
Click Save.

How Will This Affect My Current Scorecards?
During the upgrade to Scorecard 6, all existing data will be automatically upgraded to the new architecture. This means that when you login for the first time into Scorecard 6 all your Scorecards, Results, Indicators, Programs, Performance Measures, and Actions will be exactly where you left them and named the same way. Moving forward you will be able to use the new flexibility to create new containers and measures and rename your existing Containers and Measures as you see fit.