Clear Impact Scorecard 7.0 is now available to all customers.
April 13, 2022
This update includes:
New user interface designed to maximize screen real estate and improve overall look and feel.
Enhanced data entry module to enable cut and paste from spreadsheets (and other common spreadsheet functions).
'Sticky Graph' feature on the Turn the Curve screen makes the graph follow as you scroll through the story behind the curve and other notes.
'Tile View' on the scoreboard enables you to view and embed all graphs in a concise format.
Performance enhancements for faster page load times and responsiveness.
Try It Out
For a limited time, users can access both versions of Scorecard (6.0 and 7.0) simulteaneously in order to familiarize themseleves with the system before upgrading permanently.
Here's how it works:
Both versions will have all of your data, and any changes made in one version will be simultaneously be made in the other.
How to Upgrade
Upgrading to Scorecard 7.0 is free and easy, just follow the steps below:
Login to Clear Impact Scorecard (must be done by an administrator)
Click on Admin -> General Settings
Click on the checkbox to "Enable New UI"
Click on the green 'Update' button in the top left corner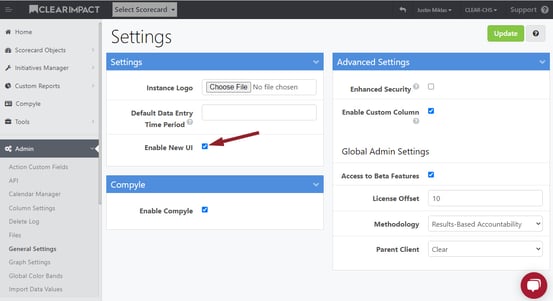 That's it, welcome to Scorecard 7.0!
(Note: Only one user needs to complete the update. Once the steps above are completed, Scorecard will be updated for all of your users. Once updated to Scorecard 7.0, you cannot revert back to a previous version.)
Additional Resources:
We hope you enjoy the update! If you have any questions, please contact support@clearimpact.com