For users with administrator permission.
To open the list of your organization's users, click the Administration icon at the top, and Users in the left menu.
This table lists all Scorecard users in your organization, with their username, status, role, and other data.
By default, both active and inactive users are listed, but you can use the Hide Inactive Users slider to show only active users.
The table can be sorted by clicking any column header, and the Search field can be used to locate a specific user, by entering any set of characters from any of the fields.
For any user, you can click the Edit button in the Actions column to make changes to any user field or level of permission. The drop-down menu of the Edit button has options to reset the user's password, or to deactivate an active user or vice-versa.
To add a user, click the Add New User button at the top.
Note: If you already have a list of users in CSV format, you can import them all at once.
With Add Existing User, you can enter the email address of a user from another organization, to add that user to your list.
For a new user, enter the user's email and name, and in Access Control you can set the user's permissions.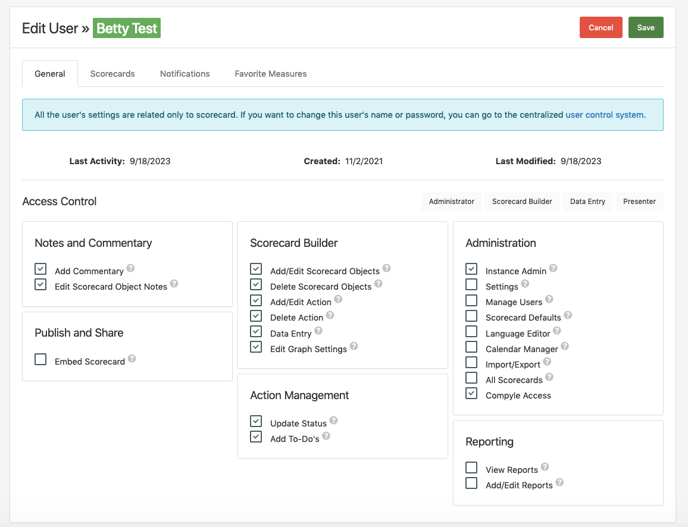 There are four access pre-sets, which can be used as a starting point before fine-tuning the user's exact privileges
.
Administration: Access to everything
Scorecard Builder: Access to everything except admin-level settings
Data Entry: Ability to add comments, enter data, and action management
Presenter: Add comments and action management
Administrator can give users a specific role by clicking on the desired tab and then also give the user a bespoke set of permissions by checking off the individual check-box permissions they would like the user to have. For example, the user might be set as Data Entry but the administrator can also check off "Edit Graph Settings" under Scorecard Builder and "Edit Scorecard Object Notes" under "Notes and Commentary" to allow the users to make updates to graph settings and measure notes without giving the user full Scorecard Builder access.
Depending on the user's privileges, there are also tabs at the top for Scorecards and Favorite Measures. Under Scorecards, you can choose which scorecards this user will be able to access. If not specified, the user can access all scorecards.
Note: You can also set user access when creating a scorecard.
Under Favorite Measures, you can choose, from the searchable list of existing measures, a set of measures that this user will be applying often.
Favorite measures will appear in the user's dashboard.
When editing a user, you can configure notifications, enabling the user to receive weekly or monthly digests of actions and favorite measures, or action notification emails.