Admin tool that lists All Recent Data Exports for your Compyle site for any user.
Whenever a Compyle user downloads a participant list, exports the responses for a survey form, or requests a CSV file of information in Compyle, the system prepares a CSV file behind the scenes and adds it to the administrator's Data Downloads list. It also adds the file to that user's My Downloads list unless it is an export from an admin tool.
Compyle prepares export files in this way so that the system can create the file when there are hundreds or even thousands of rows of data in the file. Some larger downloads were not completing in time so the export process changed to better support big data sets.
Admin: Data Downloads vs User: My Downloads
The Data Downloads administrative tool is similar to each user's personal download list, My Downloads. There are a few key differences:
Data Downloads shows all data export files for the entire Compyle instance rather than just those for a single user.
Data Downloads includes data exports from administrator tools in the Admin Tools section.
Data Downloads has an additional User filter option.

How to Use the Data Downloads page
Expand the Admin section of the left side bar menu. Then select Data Downloads.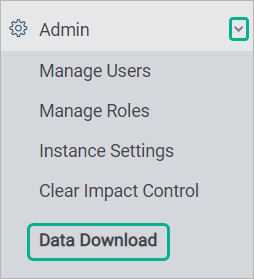 On the Data Downloads page, there is a section for filtering the list of files and five categories of export files.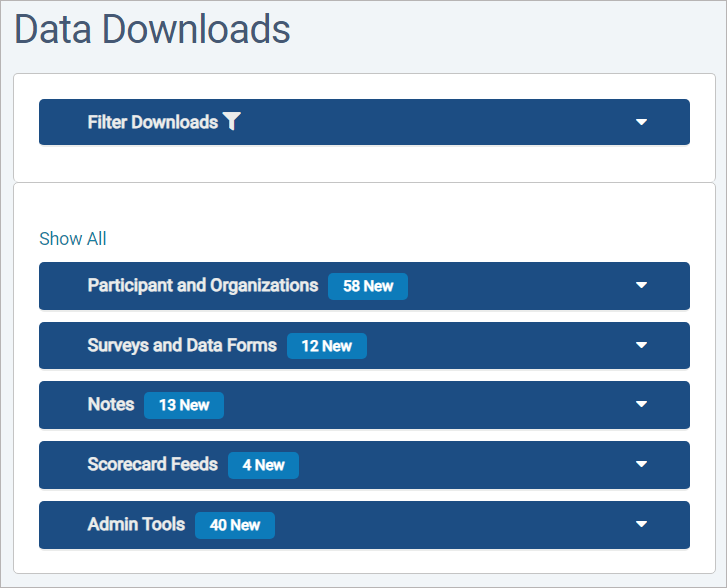 Filter Downloads
If there are lots of files, you can expand the Filter Downloads section to look for specific kinds of files or those created on a particular day. You can set up to three filters, and only files that meet all of the filter criteria will display. You will need to click the Apply Filters button to update the file list.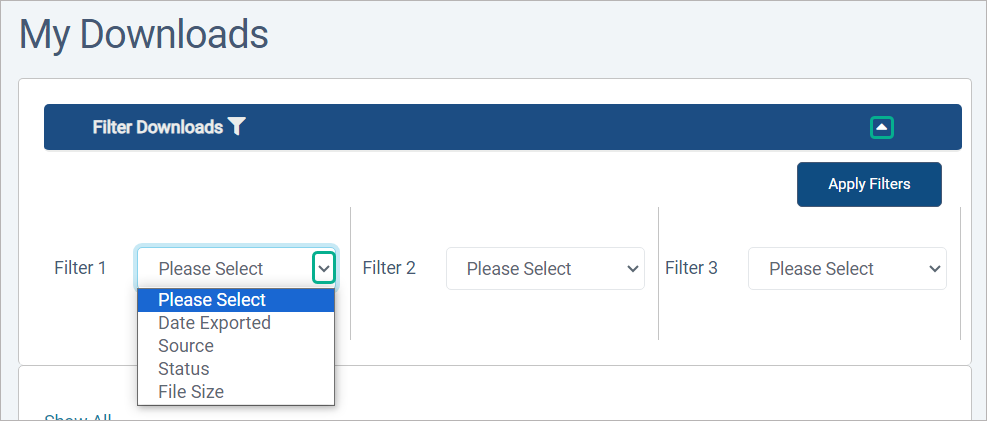 Filter Options
User: Who requested the data download or export file from Compyle
Date Exported: When the Download Data button or Export menu item was clicked
Source: Where the data was exported from
Status:


Queued: The system is making the file.
Ready: The file can be downloaded, but no one has looked at it.
Viewed: The finished file has been downloaded.
File Size: How big the file is in kilobytes (KB)
Viewing Files
File Categories
Each section of My Downloads has different information, so the file lists will look slightly different. See the Data Categories table for a full list.
Participants & Organizations
Participants, Organizations, Anonymous Responders, and Groups will appear in this section. Groups are sets of participants or organizations. They can be exported as just a list of those entities or with their survey data.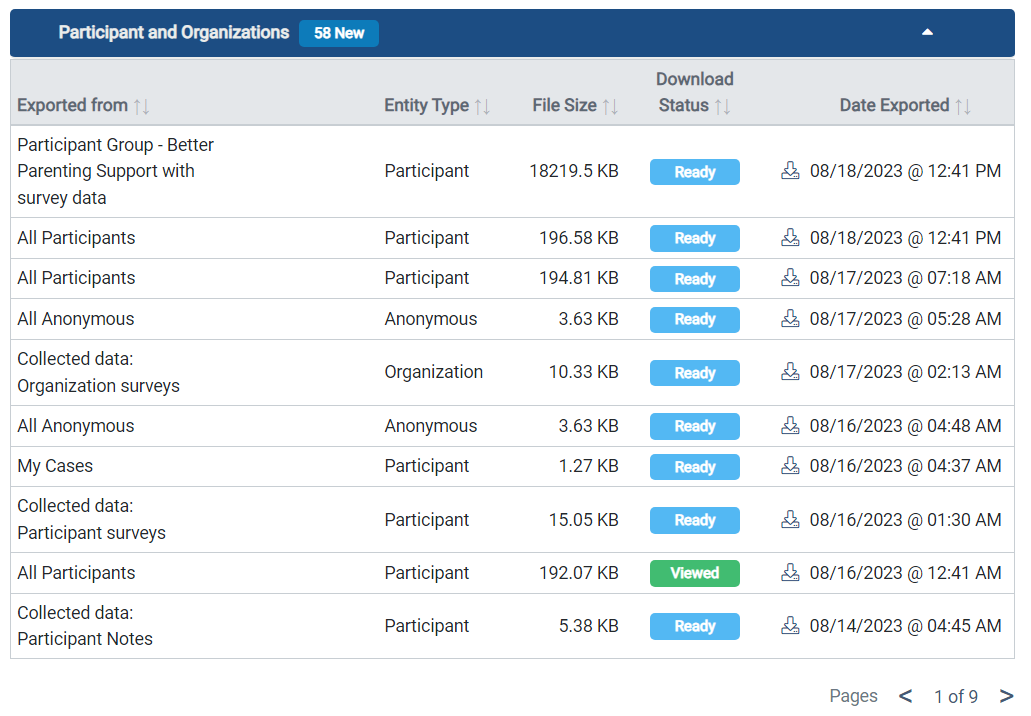 Surveys & Data Forms
Survey forms gather information about participants or organizations at set points in time. Each point in time when data is collected is considered a separate survey instance. There are four levels of survey data that can be downloaded, and they all appear in this section.
Survey exports include data about all survey responses across all instances.
Survey instance exports include data for just the survey responses for a particular data ask, which could be a single day, a month, a quarter, or a year depending on the survey frequency.
Survey instance report exports include summary data about the responses for a single survey instance.
Survey instance report question exports include only the entries for a single field for a single survey instance.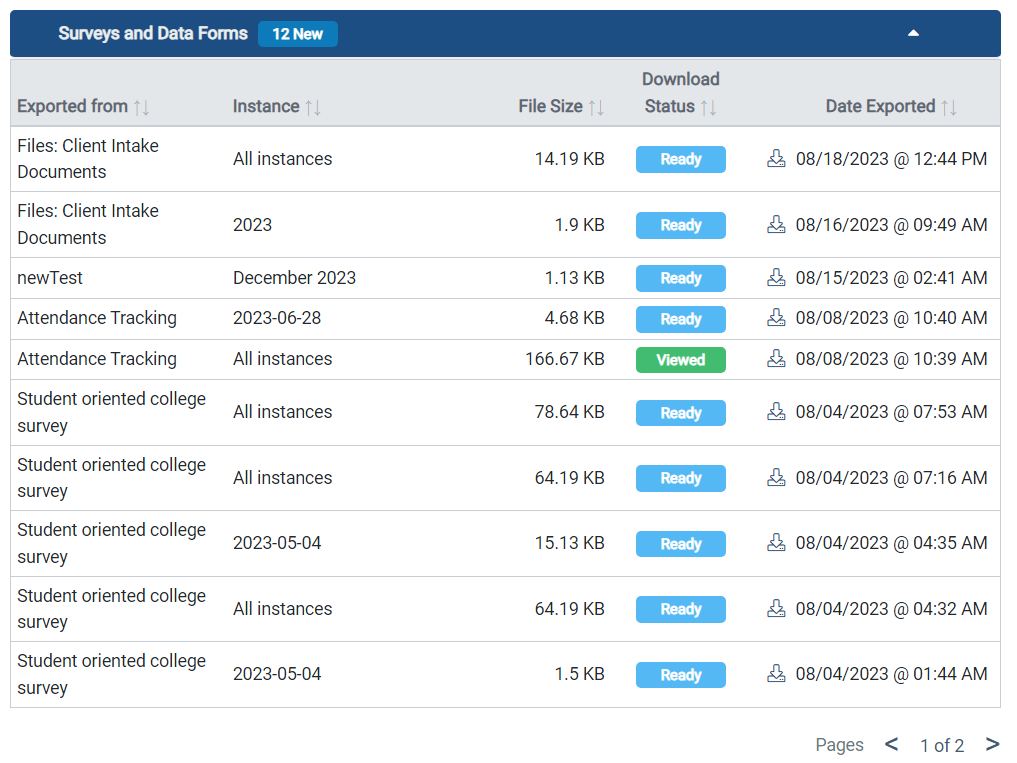 Notes
Note type forms are used to collect information about one participant at a time. They are typically accessed in the Participant folder. A participant or organization is allowed to have more than one note of the same type for the same day, which is not allowed for survey forms. Notes may be downloaded from the Notes tab in the document folder and from the Admin > Note Types view.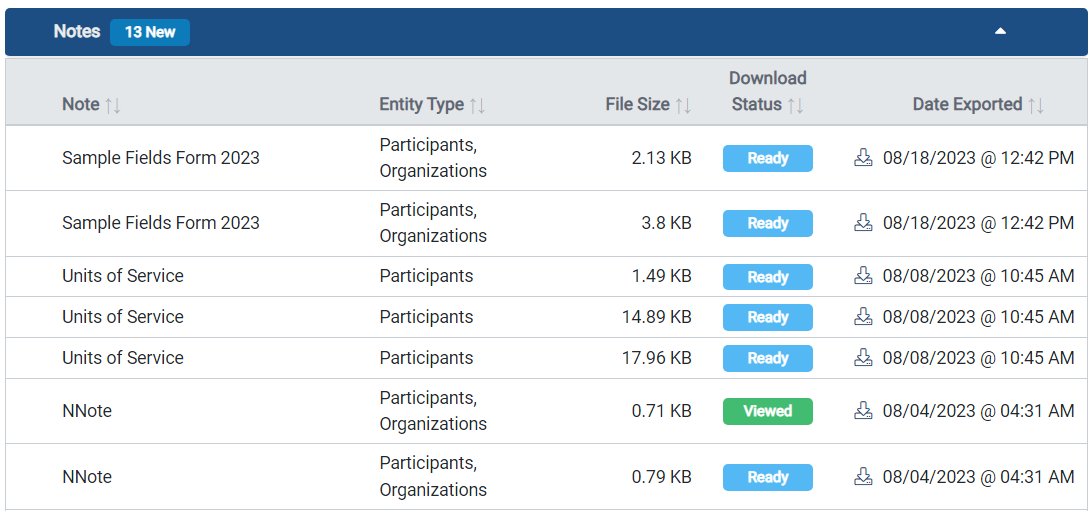 Admin Tools
Administrator only tools also have some export options. You can download a list of recent activity for a particular user in Manage Users. Manage Duplicates allows you to export the list of potential duplicate records. Similarly, the Universal Search lets you export the search results. The From column identifies the data source.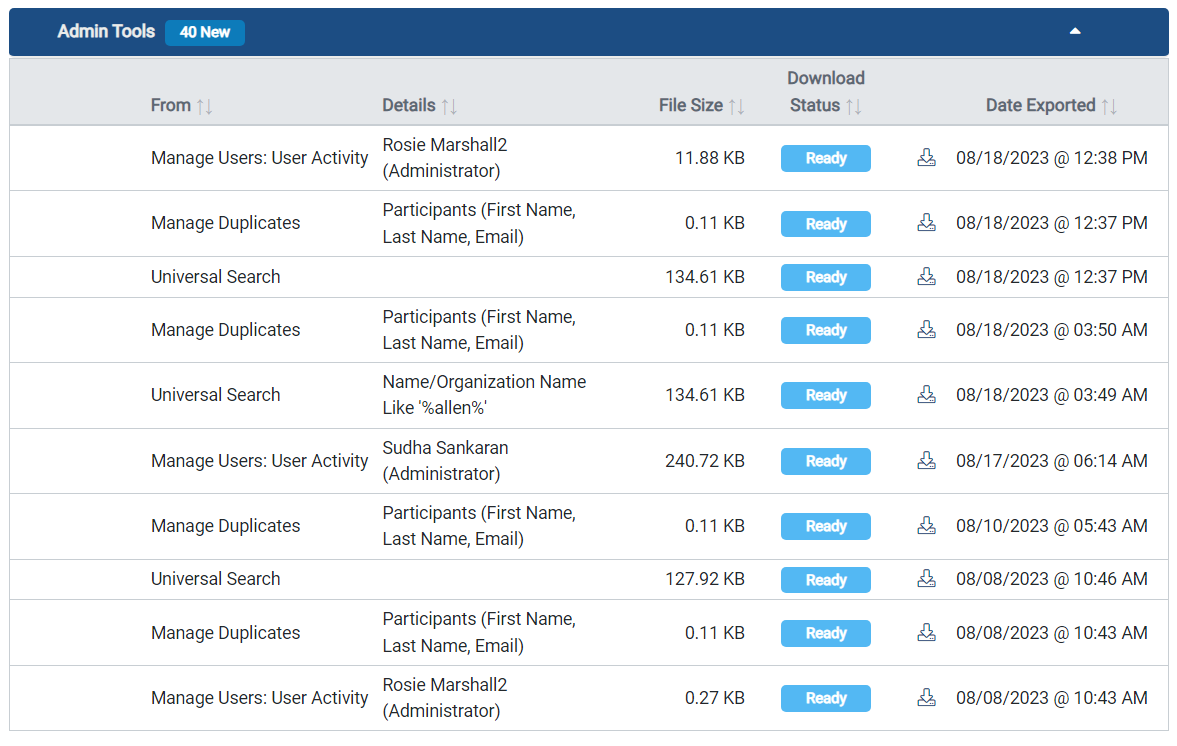 Scorecard Feeds
The data for Compyle-to-Scorecard Feeds can be downloaded from the Scorecard Feed properties page. However, for Compylations, the calculation data exports from the graph menu will continue to download directly from Compylations. The data for the export is the same data that is used to draw the graph, so it readily available to build the file with.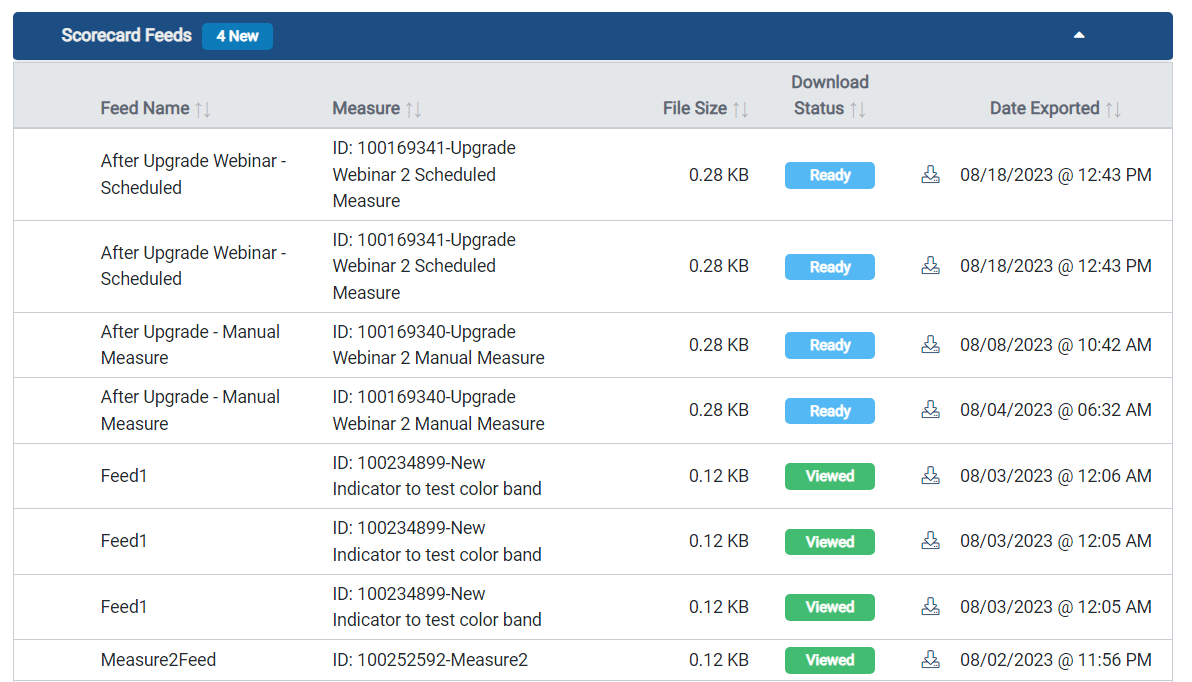 Data Download Categories
What is Found in Each Data Download Section
Participants & Organizations

All Participants/All Organizations > Export
Participants > My Cases > Export
Groups > Export
Groups > Export Survey Data
Groups > Export Survey Data Wide Format
Participant Folder > Collected Data tab > Download Survey Data
Participant Folder > Notes tab > Download Notes

Surveys & Data Forms

Survey view > Download Data
Survey Instance view > Download Data
Survey Instance view > Instance Report > Download Data
Survey Instance view > Instance Report >Show data link for question > Download Data

Notes

Note Type view > Download Data
Note Type instance view > Adding a Download Data button

Admin Tools

Admin > Manage Users > User > User Activity
Admin > Manage Duplicates > Download Data
Admin > Universal Search > Export

Scorecard Feeds

Scorecard feeds> Feed view> Download Data