Unlimited Suite Structure, Data Flow, Implementation Planning,

Unlimited Suite Structure and Language
Clear Impact Unlimited Suite offers the opportunity for a funding organization and up to 24 partners to connect and share data through Compyle and Scorecard without restrictions. (Additional partners can be added at an additional cost).
Unlimited Suite Network High Level Overview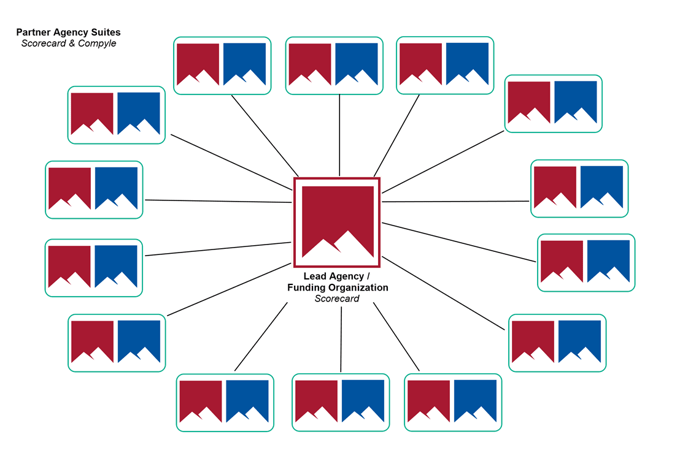 The funding organization, as well as each partner organization, will have a unique instance of both Scorecard and Compyle. The funding organization will be known as the "Lead Agency" or "Parent Instance" and the partners will be known as the "Partner Agencies" or "Child Instances."
Data Levels
Each organization will receive its own connected Scorecard and Compyle instances. The organizations need both applications as Scorecard and Compyle collect different levels of information.
Scorecard's indicators and performance measures track aggregate information and disaggregated data about client populations and communities.
Summary information (totals, percents, averages)
Subtotals that are broken down by demographic or geographic factors
Deidentified data
Compyle captures the day-to-day services and support organizations provide to individuals, families, and other organizations.
Collects participant demographics, case notes, service records, and assessments
Includes tools to aggregate client and service data for Scorecard and to feed that information into Scorecard
Data Flow
Each Compyle instance can collect its own participant data through surveys/forms/etc. That information can be aggregated into compylations and sent through Scorecard Feeds to that organization's associated Scorecard instance. (Note: Each Compyle instance can only send data to the single Scorecard instance that it is associated with. Only aggregate and disaggregated summary data can be transferred.) Once in Scorecard, summary data can be shared with the parent instance as well as any other partner instance via the Scorecard Partner Connect feature.
Unlimited Suite Network Data Flow
Prior to Implementation - Quote Details
Number of planned instances
Scope of requested:

RBA training and consulting services
Software training and implementation services, including optional pilot phase

Anticipated data migration needs
Any additional requirements
Preliminary Implementation – Information Gathering & Rollout Planning Discussion
Participants

Clear Impact staff: Consultant, Implementation Specialist, and Customer Success Manager (optional)
Customer: Project Leads (at least one from Lead Agency)
Note: Does not include all Partner Agency administrators at this point
Agenda - Review & Confirm

Number of planned instances
Whether instances will be shared by local affiliates or each dedicated to one organization
Details for instance creation (Instance Creation Template)
Name and contact info for Project lead(s)
Train-the-Trainer support model
Scope of implementation, training and consulting services purchased
Key organizational deadlines
Customer's technical assistance plan for partner organizations
Deliverables: Develop Rollout Plan
Customer Information Gathering from Partner Agencies
For each partner organization or affiliate, it is helpful to know some basic details about how they are currently collecting and storing the data that will be entered into Compyle and Scorecard when the unlimited suite launches. If the Lead Agency will use their Compyle instance to track their own programs and services in addition to Scorecard, the Lead Agency should complete the assessment and provide sample forms as well. See the Partner Agency/Affiliate Data Tracking Self-Assessment survey.
If partners will have a role in designing the shared forms, it is helpful to ask them to provide examples of those forms.
Partner Agency/Affiliate Form Samples for Developing Common Forms
Please provide examples of the forms you currently use to collect information.
Participant/client/household/organization intake forms
Application and registration forms
Surveys, assessments, and other repeatedly collected forms
Case notes, activities, engagements, and other supporting forms
Participant outcomes information
Unlimited Suite Customer Onboarding
If consulting implementation services are purchased, as part of the rollout, the Clear Impact consultant or the CSM will provide implementation project management: scheduling regular meetings, monitoring the timeline, and coordinating the information gathering and build out.
*Compyle Form Building Process
Lead Agency: Provide samples of common/shared enrollment forms, pre/post, surveys, case note templates, etc.
Clear Impact: Review sample forms through lens of Compyle to determine any changes needed to the way the data is collected if any
Lead Agency: Confirm which forms should be standardized across all instances (Form List Template)
Clear Impact: Submit forms to builder (or build them), noting necessary changes
Clear Impact: After form build, review forms internally/proofread
Lead Agency: Review completed forms & submit changes (Form Change Request Template)
Clear Impact: Completes form changes
Lead Agency: Reviews edited forms & signs off on them
Clear Impact: Copies common forms to all partner instances
*Clear Impact Suite Measure Alignment Process
Review with client to ensure survey/form questions lead to information that can be aggregated into data that informs the intended performance measures in scorecard
Review with client to ensure that partner connect relationships are setup and sharing data correctly
*Parent Instance Administrator Training
Learn about system structure for Unlimited Suites

Child Instances of Scorecard and Compyle
How to navigate between instances
How to setup Compyle Scorecard feeds
How to use partner connect

Determine training needs for partners

Goal is to empower the parent instance administrator to be the first line of support for child instances (train the trainer model)
Create schedule for training of partner administrators (if purchased)
Schedule partner training sessions

Develop data-flow roadmap

Identify results and indicators that will be tracked at parent instance level
Determine Scorecard building needs
Determine reporting timeframes (custom calendars in Scorecard have to be added manually in the linked Compyle site)
Determine data collection form/survey needs
Outline the flow of information from partner Compyle participant information -> Compylations -> Scorecard Feeds -> Partner Connect -> Scorecard calculations/aggregation
*Partner Instance Administrator Training
Partner connect training
Advanced user management (adding existing users of other instances)
Compyle Scorecard Feed setup
*Inclusion depends on customer needs and purchased implementation, training, and consulting services.
Launch
Lead Agency & Partner Agencies go live in Suite
Customer Success Team & Support become primary contacts for the Clear Impact Suite administrator users.